Looking for a world-class digital marketing agency that can help you boost your presence and make a lasting digital impact? Fret not because ShootOrder is here! Since 2013, we've set the benchmark when it comes to cleverness and strategy in the dynamic digital landscape. We are a Hyderabad-based team that's extremely passionate about helping our clients have their voice and set foot into the massive markets.
With that being said, our entire team is absolutely ecstatic to announce wonderful news to all of you. During the 2022 Clutch Leaders Awards, ShootOrder was officially listed as the top companies in India! In fact, we were recognized for six different categories — social media marketing, pay-per-click, mobile app marketing, search engine marketing, content marketing, and digital marketing!
"It is a great honor to receive this award once again. The award is fully dedicated to the team members for their hard work and creative minds. Hats-off to clutch for their unbiased rating criteria. We usually are approached by a lot of publications for paid awards and as a principle policy we have not participated in any such awards whereas Clutch has always been rating on our work which is immensely encouraging."
— Chief Executive Officer of ShootOrder
Clutch is an independent B2B review and rating platform for IT, marketing, and business service providers. All throughout, Clutch empowers and celebrates the best of the best B2B companies that aced their rigorous evaluation process. Leaders chosen are assessed based on their ability to deliver, market position, and client testimonials. According to their latest research, ShootOrder was listed as the leader in India's cutthroat digital marketing industry! Take a look at this screengrab from their Leaders Matrix: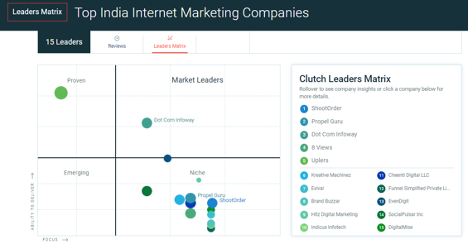 Aside from these wonderful accolades, ShootOrder was also recognized for social media marketing on Visual Objects, a creative portfolio platform that helps browsers cut through the clutter in the B2B space. Receiving these awards not only proves our work but also empowers us to strive forward.
ShootOrder is genuinely thankful for everyone who helped make this happen for us, especially to our loving clients who graciously reviewed us on Clutch. We look forward to discovering more exciting opportunities with you this 2022 and beyond!
Interested to know more about our work and what we can do for you? Say hello to our team today and we'll get back to you as soon as we can to discuss it.