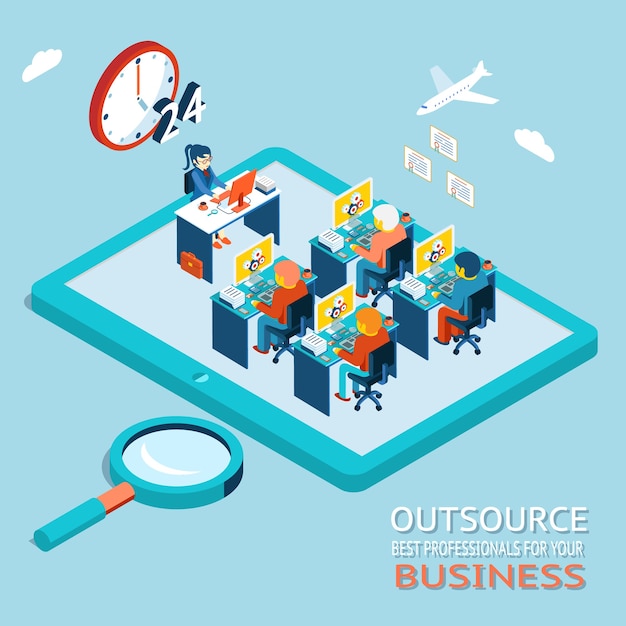 Outsourcing is the regular business practice of hiring someone outside a firm to deliver services and usually initiated by businesses as a cost-cutting measure. But in today's world, outsourcing has become a fantastic tool and offering numerous benefits in business growth. However, hiring the right outsourcing partner can be a challenge. Outsourcing has two options. You can either hire a freelancer if you have a smaller project requirement or an agency if you're foreseeing a more predictable outcome. Yet mostly, it all depends on the industry specifics, project type, length, and most probably the budget.
Some Business Activities You Can Easily Outsource
Numerous businesses have started outsourcing a lot of their business processes since they realized how impactful outsourcing can be and how many advantages they can capitalize on. Some of the best outsourcing processes include Human resources, Accounting & Bookkeeping, Tax Preparation & Filing, Payroll processing, Creative works, Social media marketing, Designing, content writing, legal services, administrative support and supply chain management. It says that there will always be someone available to work for you if you find it challenging to do it yourself. Outsourcing brings businesses countless opportunities and frees more time to focus on business operations. To state in one sentence, do what you do best and outsource the rest!
Agency vs Freelancer – Who's Best for Outsourcing your Next Project?
Even though outsourcing has become a trend in handling various business operations of larger businesses, it is essential to decide whether to hire a professional agency or individual freelancers for their specific projects before outsourcing. You need to think about your project's complexity and objectives, precisely determine what you want to accomplish with the project, and estimate your budget. Before making the final call, please take a look at the top 5 factors that you need to examine to get a smart decision regarding calling upon the services of a professional agency or a freelancer.
1. Services:
If you seek the most reliable services with a professional approach, hiring an agency will be the best option since they have a team of specialized professionals with inclusive experience working on several projects over the years. Also, hiring an agency comes with an assurance that you will receive outstanding service outcomes since they have a pool of talented experts who know precisely how to achieve the desired results.
On the other hand, freelancers usually specialize in one specific core area. Therefore, you have to find multiple freelancers based on their core to complete a project. It may lead to a lack of communication and timing delay to conclude the overall outcome.
2. Efficiency
Professional agencies manage to complete their projects pretty quickly and meet all your deadlines since they have specialized professionals in various domains. They can achieve it presently since they know very well about their workforce strengths & weaknesses and allocate the right team to deliver results in line with your specific requirements. Also, they have lots of resources and follow an established workflow to provide you with a high level of efficiency.
It doesn't mean that freelancers are not adequate! Freelancers tend to work round-the-clock to get everything done with absolute accuracy. However, freelancers are very known to toss multiple projects together at a single time. Therefore you may not ever get the equivalent level of efficiency that you expect.
3. Consistency
Consistency is one of the most prominent benefits you can get out of a professional agency. Since they work with their entire team to reach the desired results, they'll achieve the desired outcome more quickly and consistently. You may also get to know the agency people very well and share a mutual understanding with them since they recognize your requirement easier and quicker.
It cannot be the same for the freelancers since you will work with several freelancers who are not working together.
4. Availability
Availability is the primary issue companies face when deciding they go with freelancers. If you want to work with the same freelancer you worked with before, firstly, you have to make sure they are available. If you find one despite their occupied schedule, make sure that they cannot squeeze your project.
On the other hand, if you go for a professional agency, they will always be available for you and handle whatever you bring at them, and you will never have to worry about them bailing on you.
5. Cost
Most businesses find that the biggest and most obvious drawback of choosing a professional agency for outsourcing projects is the cost. But the truth is, they need to cover multiple facets to finish a task. Thus their prices seem a bit higher than those of freelancers. It can be one of the most notable advantages of hiring a freelancer.
However, professional agencies price a bit more since they bring a lot more services to the table. Also, choosing an agency helps you ensure that they produce the outcomes efficiently and effectively. You'll surely understand that their services are worthwhile and certainly worth the price.
How choosing an Agency is more beneficial than hiring a Freelancer.
Digital Marketing is the need of the hour. Hence, big and small start-ups have already started investing in digital marketing channels to get business and a higher return on investment out of it. One of the most common questions on client minds is choosing the right digital marketing campaign to gain visibility on a search engine. To examine the best results you've been looking for, you need the assistance of an experienced agency to design and implement the right and comprehensive strategy for optimal results.
Digital marketing agencies tend to have a team of SEOs, Content producers, Link builders, and Project managers hired in their organization. It is a bonus for the client since the absolute need for running a successful campaign has been settled in a single place, which you could not get from the freelancers. One has to work with multiple freelancers to get a single job done. Additionally, the agencies usually work with numerous clients. They have gone through different problems already, so if your website faces any issue related to SEO and PPC, they can instantly identify and fix it accordingly. That's why outsourcing your SEO, PPC, and Digital marketing needs to a professional agency is the best option since they are already skilled and specialized in the work you are looking for. It also gives you relief that your work is in safe hands.
Conclusion:
Administering your business involves dealing with a variety of challenges. There are numbers of viewpoints to take care of. While deciding whether to go with an agency or freelancer, you should be very precise about your intentions. Freelancers may look cheaper, but you won't get any guarantee that you'll receive the desired outcomes. Meanwhile, while hiring a professional agency, you'll get a contract to work with a group of experts that have a comprehensive range of skills.
Remember that choosing an accomplished and professional team is very crucial for any startup. ShootOrder is a premier full-service digital marketing agency that continuously monitors the latest trends and know-how to benefit you with the best possible results. Contact us if you have any queries, and we will readily answer them.