So you want to make money from your blog or online business?
You know you need to diversify your monthly income, but you're hesitating to try Affiliate Marketing?
I totally understand.
It is hard to understand what is true and what is false from the many articles and blogs over the internet.
But trust me it is easy if you understand the basics.
Lets understand these four core players better:
Merchant
Merchant is the one who owns the product. The product can be anything ranging from applications to physical products, it can also be a digital product. So basically, a merchant is someone who is selling a product online. A merchant is most likely open to get affiliates on his website to increase his sales.
Publisher
Publisher is the one who takes up the product links from the merchant and promotes it within his own audience to send traffic to the merchant's property i.e. website. He will use different Digital Marketing campaigns and tactics to sell more of the merchant's product and earns commission for doing the same.
Network
Network is the place where both Merchants and Affiliates co exist, Merchants sign up to list their products in the Affiliate Marketing program, and Affiliates sign up to find the products they like and enroll in the affiliate program. This network is the platform which settles the payments between merchants and the affiliates in a structured manner.
Customer
The one who makes the purchase on the merchant's property i.e. website and completes a sale. The one who does the payment doesn't know the relationship between an affiliate and merchant in most of the cases though it is recommended for affiliates to disclose that they are promoting.
How does Affiliate Marketing work?
Let's say you have a website and you are driving traffic from various sources like Facebook, Google Adwords, Organic Traffic because of branding, and there could be many other sources like social media marketing, community engagement, etc. Now you need to sign up for an advertiser's affiliate program. After that you will get an affiliate link that contains your Username or ID. You can then use this link when you mention the advertiser in your website.
When a customer comes to your website and chooses to click on the affiliate link to the advertiser's website, a cookie is dropped in your customer's computer. Let's say that the customer orders something from the merchant's website and completes the entire checkout process, the advertiser then checks this cookie in their computer. The advertiser will come to know this cookie that belongs to your site and will give you the credit for making the sale.
Reports will show you how much clicks and sales were generated from your affiliate link. Once this is done, you will be given commissions by the merchant. Pay out can be weekly or monthly for all the leads or sales that you have made but this could also be according to the payment policy that you have agreed upon with the advertiser.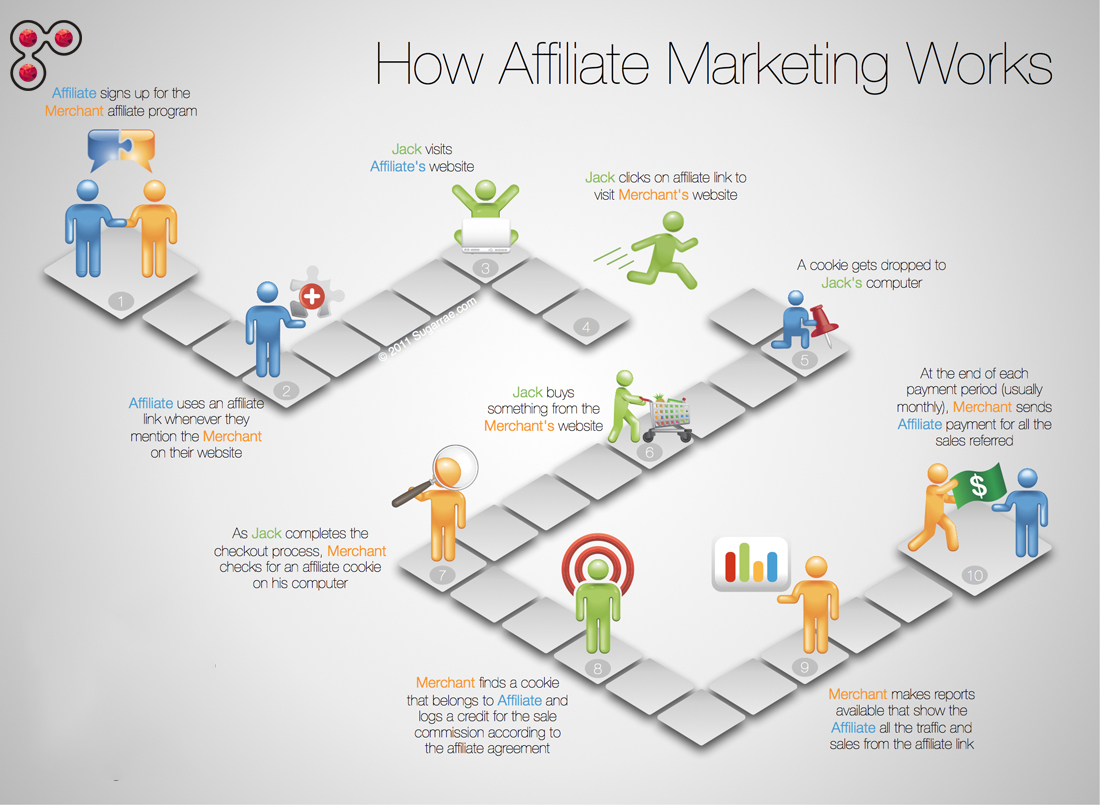 Does it Cost to Join an Affiliate Program?
There are no charges or cost for joining an affiliate program but the cost will depend on the promotion technique you use.
Earning Money as an Affiliate Marketer
If you are wondering how much affiliates earn well, there is no limit actually. However the amount you earn will depend on the program you are promoting and as to how many conversions you are generating. Truth be told you can earn millions too if you are really good at it.
TOP Affiliate Networks where you can earn from
There are a lot of networks available online these days but I suggest these networks are Top 5.
Commission junction
Amazon Associates
Impact Radius
ClickBank
ShareAsale