Many people will say you not to worried about chasing rankings for competitive keyword terms. On the other hand digital marketing expert believes that you can build your authority for these keywords over time by focusing on the long tail. It is difficult to rank for high-volume for new or low authority websites on short-tail keyword phrases. Even for well-established sites, a competitive keyword is the challenge.
Ranking on the first page of Google for well-selected long tail keywords remains one of the fastest ways to get your content in front of thousands of people. I know  that going after the low-hanging fruit is a good strategy, but not at the expense of those highly competitive phrases that will drive some great traffic to your site.

In Google's top 10 results your long tail keywords may not rank and it's true that 60% of all organic clicks go to the first 3 search results, but that still leaves 40% up for grabs. By using long tail keywords you can easily get extra clicks. When you publish quality content regularly around long tail keywords then you'll see an increase in search traffic, attract paying customers and grow your brand.
Benefits for targeting long
tail keywords

For Example: Let's say you give Digital marketing services in hyderabad. At first, you might consider targeting a generic phrase like Digital marketing companies. However, if you tried to go after that phrase, you'd be facing direct competition from big companies. It's unlikely you'd be able to knock any of those companies out of the top ten unless you're willing to invest a pile of money and a mountain of time.
But, even more importantly, Digital marketing company isn't the best phrase for you to target anyway. That's because many people who search using that phrase are looking for digital marketing services or just doing very general research on where they might like to go. They're probably not saying to themselves. I'm looking for someone who gives the best digital marketing services in hyderabad.
Let's see some of the keywords that are specific to what you're selling – keywords that you can start ranking for and generating traffic and sales right away.
These are the specific key phrase who are thinking to get the services.
Of course, these are just a few examples. I'm sure you could think of many more. However, the point is twofold;
The long tail keywords are much easier to rank for.
People who search by using long tail keywords are far more likely to become buyers

It makes the site look more substantial, more natural, and even more real in the eyes of the world's most popular search engine. Always keep in mind that your "unique" pages need only be variants of your main offerings but focused on a specific long tail niche.
Accordingly, every page will have a unique title, description meta tag, h1 header tag, and body content that emphasizes your offering by using the long tail keyword that you choose for each specific page. It is not so difficult, but it sure does work well to catch consumers at the optimum stage of the buying process.
Rather than focusing on just two or three highly competitive general keywords, target the dozens or even hundreds of easy-to-rank-for long tail keywords. If you target phrases which are too specific, you might not get enough traffic to sustain your business. That's why it's best to have:
a few pages sending you large amounts of less targeted traffic, and

many pages with each sending you small amounts of highly targeted traffic.
Just imagine, would you rather rank for one keyword which sent you 1000 visitors a day or 200 key-phrases, half of which sent you 1 buyer a day?
Now you'll realize that 100 buyers are much better than 1000 site visitors who are only doing research. Using  of  extreme specific keywords demonstrate a greater intent to buy on the part of the customer. This simply leads to more sales which is, of course, what you are really after.
How to research long tail keywords
Did you ever heard about head keywords ?
Some times Long tail keywords are called as head keywords, they area usually much easier to rank for than general keywords. Truth be told, long tail keywords can help you craft the kind of content that engages and inspires readers.
You know what successful on-page optimization requires 50% of your focus to be on long tail keywords because users conduct a long tail search when serious about a topic.
FAQ  "How long should a long tail keyword be?"
And, my answer has always been " 4 keywords or more."
The longer the keyword, the easier it is for you to rank well for that keyword.
lets see some good long tail keywords examples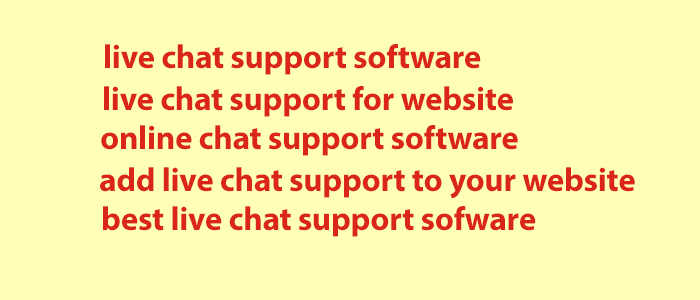 To research your own long tail keywords, follow these simple steps:
#Step 1. We should start with Basic important keywords. For suppose you want to target the keyword soft skills. Generally you go to the Google Keyword Planner and type in Soft skills to find long tail variations on that basic keyword. Then, scroll down and click Get ideas.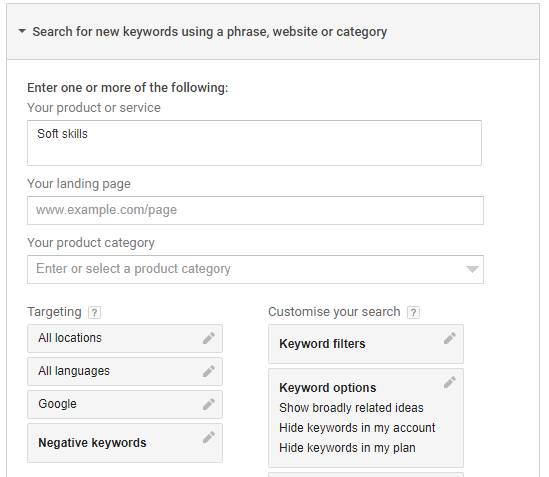 #Step 2: Click on the keywords tab to show all of the keywords related to Soft skills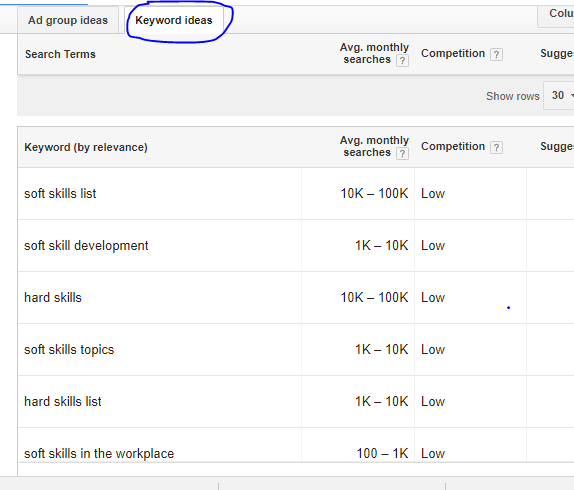 #Step 3: Always check for the most relevant in-demand keywords. Make sure that the keyword you selected is relevant, because you will be expanding on it for longer variations.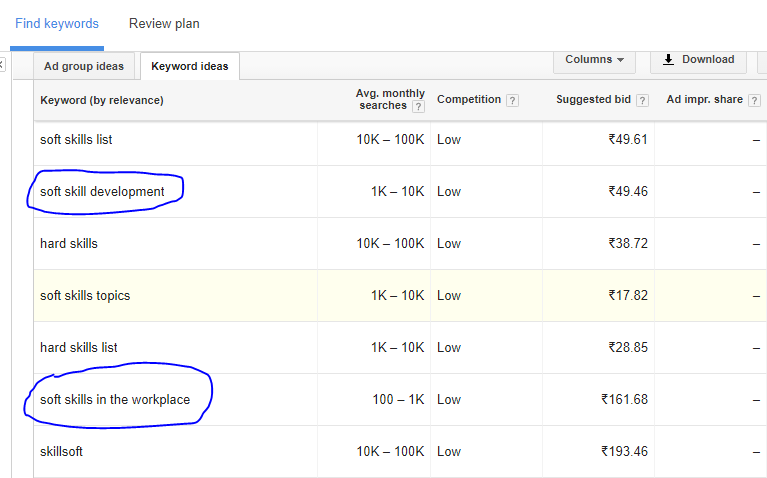 #Step 4: Copy one of the keywords highlighted in red above and plug it into the search box for long tail variations.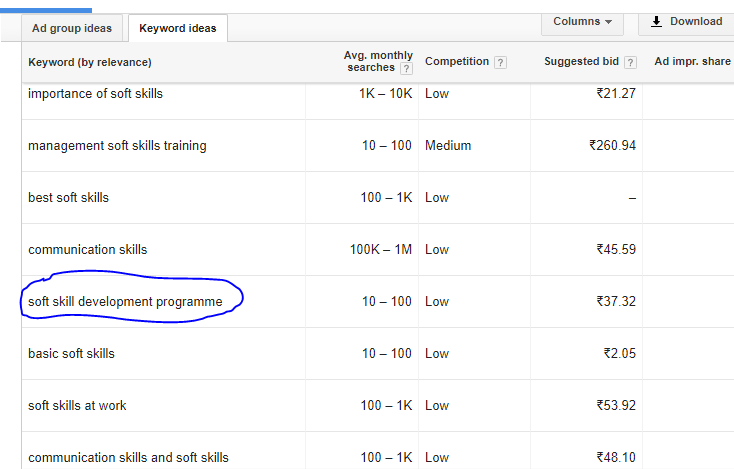 Try to understand intent of long tail keyword. Always remember when you are doing keyword research, the intent behind any particular keyword is much more important than the keyword itself. When you think about intent, good keywords will follow. Your content will improve as a result.
Long tail keywords shows the solution for the problem or need of the searcher will most likely rank well on Google, compared to similar head keywords. Generally user who type descriptive key phrases (long-tail) are more qualified than those who type head keywords or short tail phrases. This proves that the conversion rates are higher for long-tail keywords, as compared to head keywords.
But, most customers aren't ready to buy yet. Some prefer to browse, while others want to learn about the product before placing their order. What buying cycle does your keyword fall into?
If consumers haven't made up their mind to purchase, they'll probably search for "informational keywords."
Get some examples for informational keywords
how to learn english

search engine optimization tips

make money online with no investment

make money on the internet for free

English learning tips

top 10 free plugins for WordPress
However, when Users are ready to buy, they use keywords focusing on commercial intent.
Examples:
IPhone X review

buy sony xperia

weight loss programs
Commercial keywords are like invitation usually from prospective customers. It contain certain words that appear before or words that appear after, which modify or qualify the long tail keywords. That means they tell you, loud and clear, that they have money in their hands. Small business owners would do well to learn the buy words. Here are some of the popular ones:
Buy

Review

Purchase

Discount

Coupon

Deal

Shipping

Order

You Should use both descriptive and commercial intent keywords in your research. With consistency, you can improve your search ranking by targeting the keywords with useful and detailed content.