Here at ShootOrder, we recognize maintaining high quality digital marketing is key to earn lasting customers. That's why we're here to help! We're a digital marketing agency that uses innovative and creative strategies to help our clients get ahead of their markets and thrive. We come equipped with a hard-working talent team that strives for perfection in each and every project we take on. We've delivered the best results for our customers time and time again, and even brought about new market trends in the process.
In light of our success and impact, we've been named a leading digital marketing resource by Clutch, B2B resource site. They leverage a one of a kind ratings formula to compare and contrast leaders across a gamut of service sectors. The results are published in case-study like content on their platform to help buyers select the proper vendors for their projects.
We couldn't have gotten this far without our stellar clients. They took part in customer experience interviews with Clutch analysts to assess our impact across a variety of sectors. We were graded along the lines of quality, attention to detail, and overall project management skills. We're happy to report we've achieved a lovely four out of five stars so far on Clutch. Take a look at our most recent review below: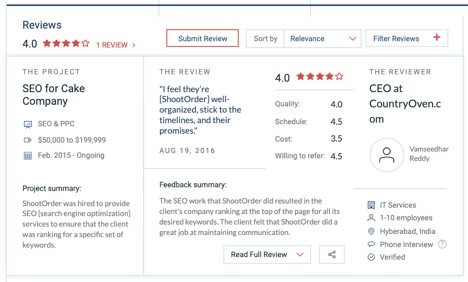 "This is exciting as being a digital marketing agency, upgrading to be listed under the leader in india's b2b companies is exciting"
Rajat Jain, CEO of ShootOrder
We're thrilled to receive this honor and vow to keep our customers happy with our high quality of work and dedication to their success. Drop us a line if you'd like to learn more about our award-winning methodology!