Inspired from U.S. president Obama's digitally driven victory in the 2008 presidential election, Narendra Modi's political campaign on social media brought tasty fruits in his basket. Politicians nationwide have been signing on to social media accounts in order to increase their following but how did Narendra Modi's social influence outdrawn the campaigns of other politicians.
Below are 4 social strategies about how Narendra Modi managed to create a strong social influence.
1. Selfies on Twitter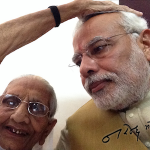 Twitter proved to be very effective for Narendra Modi in connecting to the youth of India. Taking selfies in front of masses and with youth icons increased his popularity in the youth.
"Twitter has become a hub for voters to see real-time reactions, candid responses, and instantly check facts and statistics referenced in debates and speeches. It demands transparency from the candidates, knowing that their arguments can be verified in the blink of an eye."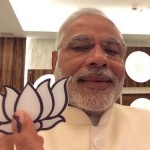 Regularly appearing on twitter trending topics made his every move count.
2. Image Speaks Louder Than Words, There was opportunity to speak on Twitter
Sought blessings from my Mother pic.twitter.com/OegXhartLx

— Narendra Modi (@narendramodi) May 16, 2014
3. Video Appealing
All those voting in today's phase- Have you voted? If not please go to the polling booth! Sharing my video message http://t.co/ZNxmuFfdxw

— Narendra Modi (@narendramodi) May 12, 2014
Realtime micro-video sharing has become an effective tool for a quick but specific appeal.
4. Instant Reactions
Political Attack on Opposition
From Day 1 Congress' attitude to Elections has been non-serious. They talked about everything apart from core issues & what they did in Govt

— Narendra Modi (@narendramodi) May 9, 2014
We admired Didi for the way she fought the Left. People of Bengal expected Poriborton but nothing has changed in last 3 yrs, only Didi has.

— Narendra Modi (@narendramodi) May 7, 2014
Criticizing the partiality
It is unfortunate that EC is not concerned about the institution's neutrality & that is why our Karyakartas have to embark on a Satyagraha.

— Narendra Modi (@narendramodi) May 8, 2014
Keeping a close eye on happening around the nation
My best wishes to pilgrims from all over India as the Badrinath Temple opens today.

— Narendra Modi (@narendramodi) May 5, 2014
Marketing every single activity
Addressed rallies in Kolkata, Barasat & Krishnanagar. I have received phenomenal affection from people of Bengal during the entire campaign.

— Narendra Modi (@narendramodi) May 7, 2014
Amazing atmosphere at the rally in Rohaniya, which is a part of Varanasi Lok Sabha Seat. Join http://t.co/hnqiK86wEx

— Narendra Modi (@narendramodi) May 8, 2014
Narendra Modi won and he mentioned that the social media is the place where he connect to young minds. He connects to the people who can understand his imagination.
What could be a bigger deal than doing something big than being a president of the country which has more 125 Crore people to listen and make a decision. Possibilities are infinite with social media. People are ready to listen. You can use social media as a boosting tool.