My colleague has a good quality.
Whenever someone talks to him about any topic like a business, fashion, sports, politics, movies, gossip. He always talks more about it.
When he is in the group, he always controls the discussions, no matter what the topic and adds value with his thoughts.
He is not a great scientist, not a bibliophile.
Ultimately the question is how does he know so much?
He hacks concepts.
The formula is very simple….  
Boost your confidence and Speak confidently
Maintain Positive body language
Rephrase other people's arguments and cite experts.
I am not saying this is the perfect formula. To be frank this will work most of the times.
As a Content writer who is always looking for new and unique, this is exactly what you have to do.
So how do you create authority content or quality content for any concept?
You can hire content writers who know your niche well If you have a good amount of money.
Depending on their skills, they can charge you from 10 $ to 100 $ per post.
But what if you want to create content on your own.
Don't worry I have a solution to this problem. I will give you a simple and easy formula that can make your blog articles more highly engaging, trustworthy and actionable.
Content Marketing is the commitment, not a campaign -JON BUSCAL
What is authority Content and Why Should You Care?
You should care because the core idea behind content marketing establishing authority and delivering value.
To make sales in any niche, people should value your advice.
They don't question your recommendations when your readers start considering you an authority.
This the reason why influential articles can generate more sales for brands when compared to direct selling.
As I mentioned earlier you have to authority content that establishes you as an authority. This will help you to gain trust and influence
Businesses are making $6.50 for every $1 spent on Influencer Marketing.
All the Expert content writers tell you 3 core components of authority content.
Well-researched

Detailed and In-depth

Actionable
Such content in a niche is very difficult to create. 
No worries. I have covered it.
By making a few changes to your writing style, you can make your content appear high quality.
Let me tell you how.
#1 Analyze Your Competitors To Understand the Niche
Picking up a topic and writing on it, is not the way to write a quality article. You have to put efforts on research to make the content more meaningful and informative. Identify the most influential marketers and most popular blogs in that niche. Now you have to look at their most popular posts and study their writing style. Find if there is any niche specific jargon that they use. In the digital world, you can find several resources available to develop an informative, creative and worth appreciable content on your website. Buzzsumo, Google Scholar, google books, Wikipedia and much more are always there at your service for FREE. You can get excellent articles and research pages by the experts and professionals from those websites. Add more and more colors of excellence according to your standard skills and experiences and use that information as a reference for your content. Research and write a positive content.
As I mentioned earlier there are several tools you can use to research your competitors.
For example, you can use BuzzSumo to find the most popular blog posts in your target niche.
For example, Consider weight loss tips as your topic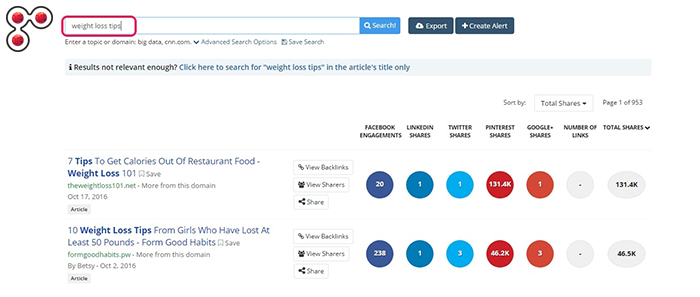 BuzzSumo gives you the top 10 most popular posts on a topic for a free version. You need to purchase the premium version for more details.
I would say these results are enough to give you insights on your audience. Take out time to review the most popular posts on all the blogs you find and subscribe to the email lists of all the top blogs.
Google loves you only when everyone else loves you first.
#2 Write on a Narrow Topic to Simplify Research
To create authority content in any niche, you need to follow the 3 core components which I mentioned earlier. To cover 10 different topics in one post is a very challenging task. Sometimes you feel more difficult when you try to do this in a niche you know nothing about. The smarter route is to identify narrow topics within your niche, break them down into even smaller segments and create separate posts on all of them.
Great content is the Best Sales Tool in the world – Marcus Sheridan
For example, instead of choosing a very broad niche like health and fitness, go deeper and target something like post-pregnancy weight loss tips.

Break this down even more into segments like post-pregnancy weight loss for first-time moms, healthy post-pregnancy diet, post-pregnancy exercises etc.

A free tool like Answer the public can generate dozens of such ideas.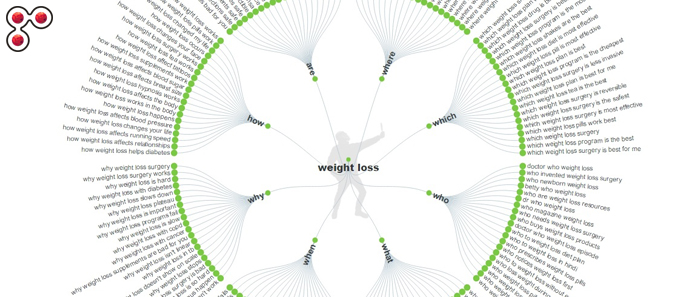 You can come with good post lines like
1. 17 Easy Exercises To Lose Baby Weight After a C-Section
2. 11 Post-Pregnancy Weight Loss Myths First Time Moms Should Avoid
3. 5 Easy Diet Changes To Help You Lose Weight After Delivery
As these are very narrow topics targeting very specific problems, researching content will be much easier. Instead of taking a bird's eye view of multiple topics, targeting a narrow topic and providing actionable solutions to your audience, also establishes you as an authority much faster.
#3 Visual content to Keep Your Readers Engaged
By using snapshots and visuals make your content look professional and trustworthy. Visuals not only makes your content look professional and trustworthy but it also helps to understand and consume information much more effectively.
The human brain can process visual information almost 60,0000 times faster than plain text.
A reader is much likelier to remember visual based content as compared to simple text. Colored visuals increase people's willingness to read a piece of content by almost 80% says the recent study by scientists. Using images and snapshots with your content even when they add no apparent value recommended by neuro-marketing expert Roger Dooley. Visual content may go viral on social media. Sharing infographics on Pinterest is one of the best strategies for social media marketing to get traffic.
Why?
Because visual content looks more credible.
#4 Quote Other Experts and Thought Leaders to Look More Trustworthy
Make your content trustworthy is by quoting and mentioning the one who is already established niche experts in your content. This is the quickest way to establish credibility. You're in a new niche, so people don't know you. But they know the other influencers. You can simply borrow their credibility to look credible yourself.
Content is king – Bill Gates
You can do this in many ways.
Conclusion:
 To make your content look more trustworthy there are many ways. For instance by sharing more examples and case studies. But, the best way is to follow the already proven success stories when you are entering a new niche. Just research the already established content creators and learn from their success instead of reinventing the wheel. Slowly, you will be able to create your own distinct voice and following, ultimately making you an expert yourself.